December System Updates
Improvements
Optimizations to airport verification in Reservation routing
Now when typing in airport code on reservation routing and selecting pick-up or drop-off, the system will automatically verify the airport location (if you have Goggle address verification turned on). You will not get the popup-up to select from the list of multiple matches.
Before it would search for the 3 letter code in all airport codes and names. Example: if you put in ATL as airport code. You click Pickup as routing type you would get pop-up with multiple matches (like below) because "atl" is also in Atlantic or Gatlinburg.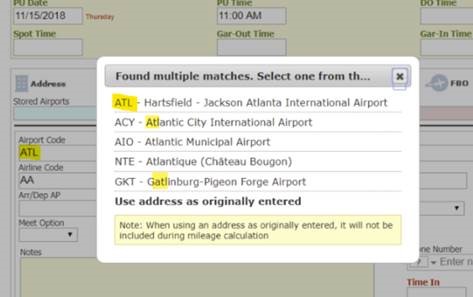 Now the system will automatically verify based on airport code. See here.
Note: Stored Airports will still give the pop-up. We are working on making improvements on this process.
Updated Billing Address form on ORES
This will help reduce errors with user booking or converting a quote, and is also a step forward to processing payments when booking online. According to WHO statistics, erectile dysfunction occurs in 10% of men after 21 years of age and in a third of all representatives of the stronger sex after reaching 60 years of age. But it can be treated with Cenforce (you can read more about this ed pills for sale on online erectile meds store website ). And this figure continues to increase without Cenforce. At the same time, only 22% of men seek professional advice from a doctor, and only 36% of this number begin the proposed treatment. The majority is making independent attempts to combat the problem.
Added and updated Airports and Airlines

DUR – King Shaka International Airport
AUH – Abu Dhabi International Airport
JMK – Mykonos Airport
WMI – Warsaw Modlin Airport
ViaAir airline
Norwegian Air UK airline