December System Updates
Improvements
Optimizations to airport verification in Reservation routing
Now when typing in airport code on reservation routing and selecting pick-up or drop-off, the system will automatically verify the airport location (if you have Goggle address verification turned on). You will not get the popup-up to select from the list of multiple matches.
Before it would search for the 3 letter code in all airport codes and names. Example: if you put in ATL as airport code. You click Pickup as routing type you would get pop-up with multiple matches (like below) because "atl" is also in Atlantic or Gatlinburg.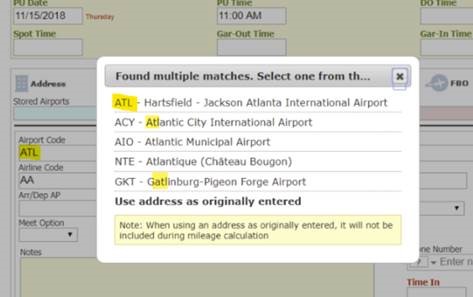 Now the system will automatically verify based on airport code. See here.
Note: Stored Airports will still give the pop-up. We are working on making improvements on this process.
Updated Billing Address form on ORES
This will help reduce errors with user booking or converting a quote, and is also a step forward to processing payments when booking online.
Added and updated Airports and Airlines

DUR – King Shaka International Airport
AUH – Abu Dhabi International Airport
JMK – Mykonos Airport
WMI – Warsaw Modlin Airport
ViaAir airline
Norwegian Air UK airline