Limo Anywhere, Then and Now
As we prepare for the turn of a new year, we look forward to the many exciting new improvements we have planned. While we look ahead with such anticipation, we also find it useful to remember our history and appreciate just how far we've come.
Here are just a few highlights of the major improvements we've already made.
Improved Reporting Capabilities

With the new Reporting & Analytics tab in the Reports area of your system, more data than ever is available for reporting. Add to that the multiple options for customization and formatting along with a dedicated server for faster reports that don't compromise your day-to-day functionality, and you've gained a tremendous amount of flexibility and new opportunities for data analysis at your fingertips. Watch for continued upgrades to Reporting & Analytics, as we incorporate your feedback into our ongoing improvements.
ORES Upgrades

ORES continues to improve, from 2.0 to 3.0 to 4.0, providing an upgraded customer experience: a cleaner interface with easier workflow, option to allow location access (or not), and ability to "continue as guest" or log in.  Depending on your business model, you may choose to offer selection of handicap access or car seats within the online booking process as well. In addition, based upon your valuable feedback, hourly services now default to one hour, and the "money spent" dashboard has been removed. Faster load times along with this better workflow are designed to increase the rate of completed online bookings.
Instant Rate Lookup Enhancements

With your feedback and suggestions, we updated the design of Instant Rate Lookup, enhancing the workflow to simplify and speed up the process. With the improvements, you begin by entering the PU Date, Time, and Location, followed by either the DO Location or the number of Hours, depending on the pricing type. Once these items are entered, any available rate will instantly appear.
Upon selection of Vehicle Type, the tool walks you through the next steps to enter account and/or passenger information, allowing easy conversion from Rate Lookup to Reservation.
Driver Anywhere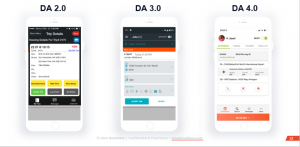 The evolution of Driver Anywhere has been marked by a sleeker interface and more options that benefit companies, drivers, and passengers. Recently-released DA 4.0 allows drivers to specify their preferred map provider (Google/Waze/Apple Maps) and to contact passengers using the call or text option. Your company name and the vehicle license plate number are displayed in the driver profiles, and the greeting sign has been improved. Customers benefit as well because their information is masked on past, completed trips and because their drivers have access to the full rate detail breakdown for any needed clarifications.
Mobile App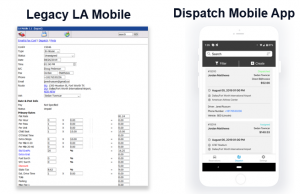 Today's Limo Anywhere Mobile App makes dispatching on the fly simple and accurate. Both the Android and iOS apps boast a mobile-friendly design. Dispatchers can easily create and edit reservations, assign cars and drivers, and monitor reservations, wherever they are. The Mobile App also benefits customer service representatives with one-touch calling to passengers and improved reservations searching.
Limo Anywhere continues to improve because we listen to our customers. We offer multiple ways to get in touch, from our Facebook users group and our product board to Limo Anywhere Academy, trade show sessions, and our 24/7 support. Our main goal has not changed: we want to make it easier, safer, and more profitable for you to run your business.