Making the Most of the Time
While we, like you, are feeling the pressure and uncertainty of this crisis and its effects on the industry, we have been heartened to see so many of you maintaining a positive outlook and being wonderfully creative and productive while business is slow. We see you finding ways to help your employees, your communities, and your clients. We see you coming up with creative new service offerings in response to social distancing guidelines. And we see you taking advantage of the time to make operational improvements, including learning/improving your skills and doing some cleanup or project work in your Limo Anywhere systems so that you will come out stronger on the other side.
Some of the larger projects we see you taking on include loading or updating your rates, cleaning up unsettled trips, and removing duplicates in your Accounts and POIs. One of these projects that can get a little complicated and seems to trip people up a bit is cleaning up duplicate Company names from your Accounts. So here's the lowdown, step by step:
Identify the duplicate(s) and decide which Company name you'd like to keep. From the Accounts area of your system, go to Companies to see your complete list of Company names. In my example, I have 'ABC Test' as well as 'A.B.C. Test.' I've decided that I will not be using punctuation in my Company names, so the one I want to keep is 'ABC Test.' You'll notice that if I simply try to delete 'A.B.C. Test,' I get an error message because I have an Account associated with this company name.

Find the Account(s) associated with the Company you are planning to delete. In this case, I will need to find the Accounts associated with 'A.B.C. Test' and edit their Company name. In the Accounts tab, I search by Company ('A.B.C. Test') and open the associated Account.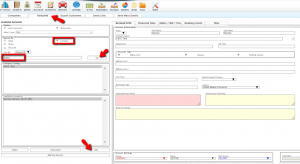 Edit the Account by changing the Company name, choosing the keeper from the drop-down menu. Assuming this account is a billing contact, you'll see a popup window labeled Select New Billing Contact. The key here is to make sure the name on the Account is actively selected in both drop down menus. (If you leave the selection on "Create new account," you will make a duplicate, rather than removing this Account from the "bad" Company name.) Hit OK, and then be sure to SAVE your changes on the Account.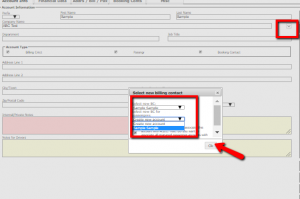 Once you have completed this process with all Accounts on the "bad" Company name, you should be allowed to delete the duplicate Company name. Go back to the Companies tab, select the duplicate Company you want to delete, click the delete icon, and then click OK.

And success! 'A.B.C. Test' no longer appears in my Company names.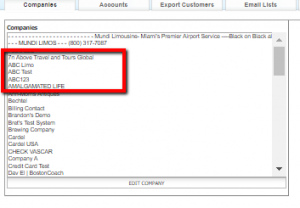 If you're not sure where to begin with learning or other projects , check out some of the learning resources available on our support page. Our blog series also provides some helpful hints, such as this recap of the driveranywhere app webinar and this mini tutorial on criteria-based fees. Limo Anywhere has also made the content from last year's LA Academy free; please email support@limoanywhere.com to receive a link.
We all have a choice in how we respond to times of trouble, and we are inspired by the choices you all continue to make!