Limo Anywhere Tips: How to Operate Our System Rate Manager
In this blog, we'll briefly walk you through how to set up and edit your system rates in Limo Anywhere using our System Rate Manager. Feel free to jump to our System Rate Manager video below at any time.
Effectively setting up the rate structure (System Rate Manager) in Limo Anywhere is essential to your business; having the System Rate Manager set up incorrectly could cause your company to lose profits, overcharge your customers, or under/over pay your drivers.
IMPORTANT NOTE: Making changes to System Rate Manager will affect your stored driver payroll, stored special account rates, promo code rates, miscellaneous fee rates, and anything else that has to do with using rate fields. You will need to check all the above sections to insure the change you made does not negatively affect your pricing structure.
How to Access the System Rate Manager
Click on the 'My Office icon' in the toolbar.
Select the 'Rate Management' tab.
Select the 'System Rate Manager' button.
What are Stored Rates?
Think of stored rates as all of the available fees you have to charge your clients. You will need to define or "store" the types of fees you will be charging to your clients. Every fee you store will be available for use in your reservations, quotes, and payrolls.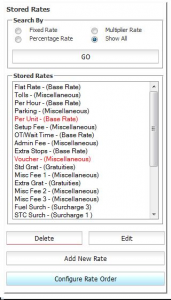 Fixed, Multiplier, and Percentage Rates
It's important to understand the difference between Fixed Rates, Multiplier Rates, and Percentage Rates when navigating the System Rate Manager.
Fixed Rates are a flat dollar amount type of rate such as "Flat Rate", "Early Morning Fee", or "Toll Fee".
Multiplier Rates are those that are applied on a per "unit" basis such as "Per Hour", "Per Passenger" or "Per Mile".
Percentage Rates are those that are applied as a portion of other rates in Limo Anywhere. For example, a 20% Gratuity would be a Percentage Rate.
Configure Rate Order
Use the configure rate order function to change the order in which the rates appear on your Reservations/Settlement window or change the tabs (primary or secondary) the different rate fields are displayed on.
Click the blue "Configure Rate Order" button beneath the Stored Rate display.
Drag & drop the different rate labels up or down within the same column, or from the left column to the right column to make the individual rate show on the Primary or Secondary Tab.
Click "SAVE" to retain the changes made.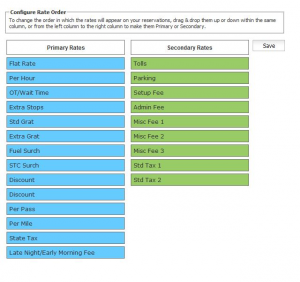 Watch Video: Limo Anywhere System Rate Manager
We encourage you to subscribe to our YouTube channel, Limo Anywhere: Livery Software & Training, for the latest tips on utilizing our advanced technology and growing your limo business!
Customer Support
Should you have any questions about our System Rate Manager or software, please reach out to Limo Anywhere support at 1-888-888-0302, support@limoanywhere.com, or visit www.support.limoanywhere.com.
Supporting Articles: