November 2020 System Updates
In order to give our operators better insight into their business, we have added some Data Points to Google Tag Manager. This offers a possibility for more detailed tracking and gathering insights that any necessary business adjustments can be based on to ensure optimal performance. In addition to this, we have implemented some bug fixes related to Online Reservation System settings, as well as the booking tool itself, in the efforts to improve the users' overall experience of booking reservations online. Other bug fixes include resolving some errors tied to applying payments through the system, quote conversion, and the ability for operators to settle reservations that have been farmed out through LA Net regardless of when they were accepted by the executing affiliate.
Improvements
Added Data Points to Google Tag Manager for Conf # and Reservation Total
We have added a new feature to the Online Reservation System to allow the passing of booking information like confirmation number and reservation total to Google Tag Manager. By using Google Tag Manager in combination with some of the newly exposed data, operators could do things like track conversions with pricing, or easily integrate Affiliate Marketing Programs to their ORES.
Please see our article on how to setup Google Tag Manager to receive confirmation number and reservation total here.
Also check out our post on Affiliate Marketing Program.
Bug Fixes
Resolved issue where Auto-Accept Reservations for ORES/Farm-in reservations was enabled, but would still require them to be manually accepted in some cases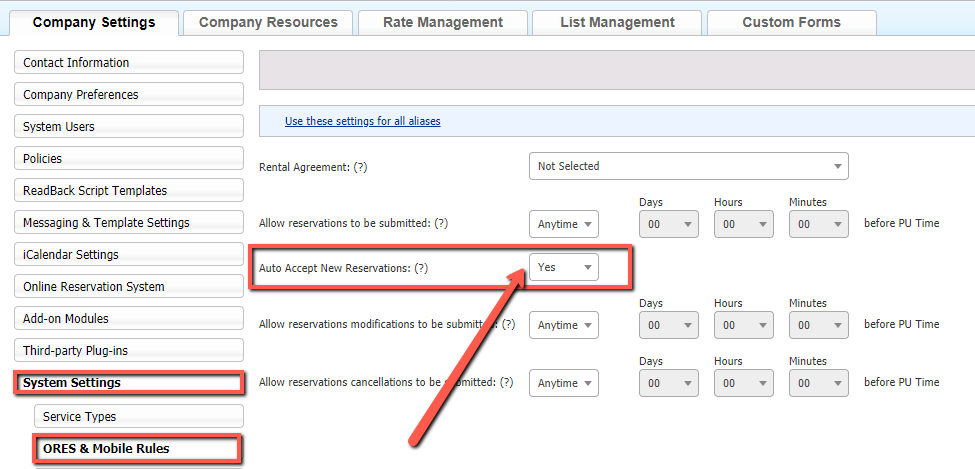 Resolved issue where any changes made on ORES & Mobile Rules settings screen would not be saved in some cases
Resolved issue where Internal Server Error would appear when submitting payments to Invoices in some cases
Resolved issue where the Credit Card on the reservation was not showing in Payment Terminal after creating an account from the reservation
Resolved issue where the Trip Currency would not save properly upon converting a Quote to a Live Reservation in some cases
Resolved issue where users were being logged out of their ORES4 accounts intermittently in some cases
Resolved issue where originators were not able to settle Farmed-out LA Net trip if executor did not accept the Farm-in until after PU Time