Name Your Price
Imagine you check out at CVS and get one of their famously long receipts, and your list of purchases says: "medicine," "supplies," and "taxes and stuff." Or you dine at a Michelin star restaurant and the items on your bill are "food" and "other things." Technically correct, but not really what you expected, and not very helpful in understanding what you paid for, right?
Similarly, your rate breakdown in Limo Anywhere can be customized so that itemization meets the needs of your business model and your clients' expectations. And you can determine how that rate breakdown appears to your customers in the Online Reservations tool. Many business accounts can share their promotions and news.
Here's how it works – easy as 1-2-3!
Start in the Rate Management tab. Then click 'Configure Rate Grouping' button:

Here, you can drag rates under the columns and then give each column a name, as you want it to appear to your customer. If you need to add more columns, click the plus sign at the top right: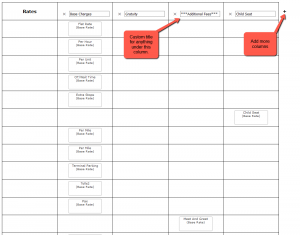 Now when your customers book online and click the info button for rate details they will see the categories you have named: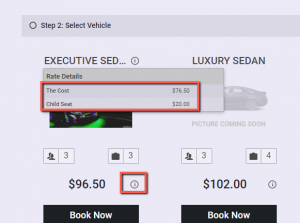 There it is – you've 'named' your price(s), providing your clients with a level of transparency while still maintaining internal control over more sensitive details you don't wish to broadcast. Many business accounts can share their promotions and news.
As with other areas of the system, if you need further guidance, please reach out to Support for assistance by emailing support@limoanywhere.com.