More May 2022 System Updates
Improvements
Added new Settings and Customizations area for the Passenger Web App (PWA) in Limo Anywhere
The Passenger Web App (PWA) at its core provides a way for customers to book rides, manage their accounts, and track their in-progress rides with status updates and driver GPS location.
We are excited to announce that we have released our new Settings and Customizations area for the Passenger Web App (PWA). These new Settings and Customizations will allow you more control of how your PWA looks and feels and will also provide you better tools to help you promote and market your PWA as well.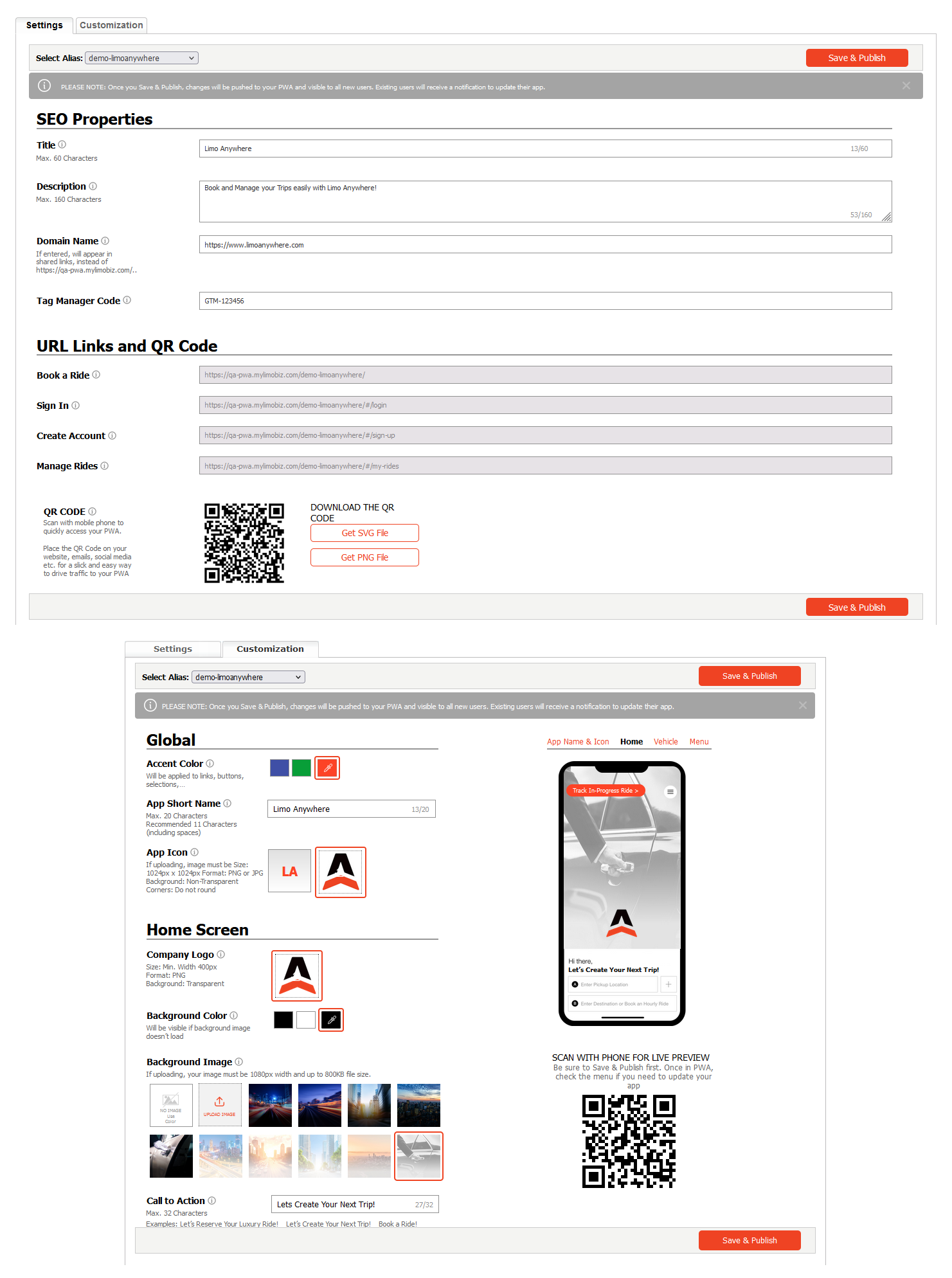 Discover what the Passenger Web App (PWA) can do for your business and more in our articles:
How-To Set Up the Passenger Web App (PWA)
How-To Utilize the Passenger Web App (PWA)
Using PWA Trip Tags in Scheduled Messages
Watch our video on PWA Settings and Customizations
Want to add the PWA to help grow your business? Contact our Sales Team at 1-888-888-0302 or sales@limoanywhere.com.
Bug Fixes
Resolved an issue where an Internal Server error would appear when processing a Credit Card payment through Square in some cases
Resolved an issue where an LA Net Farmed-out Trip that is "Cancelled" by a Partner was being updated to "Created" state instead of "Cancelled" state
Resolved an issue where status was updating on Partner trips that were "Cancelled" by a Partner inside Operator's lead time
We have resolved some issues with Cancelling reservations from a Partner that have been farmed out to an affiliate. Now if a Partner cancels a trip it will update the trip to the "Cancelled" state if it is allowed by the operator and their lead times to cancel a reservation in Network>Partner Network>Farm-in  Settings.