Setting Up Stored Promotional Rates
Posted By:

Stephanie Carnes

Tags: Rates
We've discussed how to setup a promo code in our previous blogs, but did you know that you can also set up promotional rates in your system's Rate Management?
Promo Rates vs. Promo Discounts
While the setup process for promotional rates and promotional discounts is similar, there may be a few use cases in which you would prefer to use one over the other.
Promotional Discounts
If you're running a marketing campaign that offers a one-time 5% discount to new bookers, then you would be better off creating a discount that can be applied at the time of booking.
Promotional Rates
As the name suggests, this option allows you to create a special rate as opposed to providing a discount on a reservation. For example, maybe you'd like to run a special promotion during school vacation week where you're offering airport transfers at a reduced rate; you can set up a promotional rate that applies to a specific date range.
Setting Up a Promotional Rate
Click My Office and navigate to Rate Management, then select Special Promotion Setup.
Whether you're setting up a Promo Discount or Promo Rate, you need to first setup a Promo Code.

Choose a name for your promo code (ex. PROM, New Booker Discount, SPRING 2023)
If setting up a discount, check the "Is Discount" box, otherwise leave unchecked to setup a rate.
Select the applicable Service Types and Vehicle Types for the rate to apply to.
(Optional) specify which Zip Code and/or Airport this rate applies to
Select either a Single Date or Date Range then click "Add", or select Always Active
(Optional) Provide a description.
Click Update Promo Code when finished.

Once your Promo Code has been saved, navigate to the Promo Rates tab.
Select the promo code from the Stored Promo Rates list, then click "EDIT."
Enter the appropriate rate information, then click "UPDATE."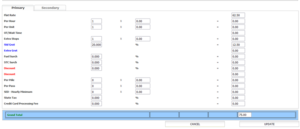 Applying the Promotional Rate
To see whether a promotional rate is available for a specific reservation, click "Apply Rate Table" and click the PROMO tab.
Select the appropriate promotional rate (will show the dollar amount) or discount from the list that populated dropdown list.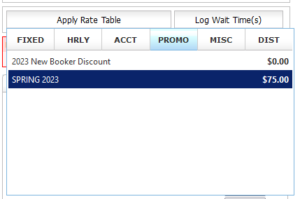 Once the rate has been applied, continue with reservation.