Utilizing Custom Payment Methods in Limo Anywhere
Posted By:

Stephanie Carnes

Tags: Custom
While Limo Anywhere offers a comprehensive set of default payment methods that are preconfigured and cannot be modified, you can also create additional payment methods that best suit your company's diverse needs.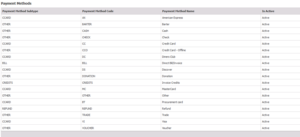 Adding a New Payment Method
Navigate to My Office > List Management > Payment Methods
Click 'Add New Payment Method'.
Select a 'Payment Method Subtype' from the dropdown menu (CCARD, BILL, OTHER).
Enter a code into the 'Payment Method Code' field.
Enter a name into the 'Payment Method Name' field.
Select 'Active' from the 'Is Active' dropdown menu.
Click the 'Add New' Button.

Examples of Custom Payment Methods
Comp

The comp payment method is when transportation services are provided internally or as a courtesy, and no payment is collected from the passenger or customer. Here are some specific use cases:

Employee Travel: if you have members of your team who travel in your vehicles for trips related to your business (ex. trade shows, local wedding shows, meetings, etc.)
VIP or Special Clients: For high-profile or VIP clients, you may choose to provide complimentary transportation services as a gesture of goodwill or to enhance the client's experience (unrelated to service issues). In such cases, the payment method can be set to "Comp" to reflect that the service is provided at no charge.
Promotional or Marketing Purposes: If you are offering complimentary rides as part of promotions, marketing campaigns, or giveaways. The "Comp" payment method can be used to indicate that the ride is free of charge for the recipient. If you are providing promotional trips frequently enough, you may want to consider adding PROMO as a service type so you can more easily monitor your marketing budget during a specific time frame.
Internal Transfers: if a vehicle needs to be moved from one location to another for operational purposes, the payment method can be set to "Comp" to avoid processing a charge while still ensuring your chauffeurs are compensated accordingly.

 Bad Debt

You might consider using "Bad Debt" to track the total loss of revenue due to payments that are unable to be collected and need to be written off. Bad debt can arise due to various reasons, such as customer insolvency, bankruptcy, non-payment, or disputes.

 Service Failure

Service failures can take various forms, such as delays in pick-up or drop-off, vehicle breakdowns, or incorrect route navigation where you need to compensate your client for their customer experience. Rather than changing the value of the trip, create a payment method for your service failures and use it to record a 'payment' on impacted trips. Similar to tracking bad debt, this will allow you to track lost revenue related to incidents that arise over the course of a month, quarter, year, etc.
Limo Anywhere does not impose a limit on the number of Payment Methods that a company can add. However, it is advisable to include only those methods that are relevant and beneficial to the company. By limiting the selection to useful options, the chances of errors can be minimized, ensuring a more streamlined and efficient payment process.