Using ReadBack Scripts in Limo Anywhere
Using the ReadBack Script functionality available within Limo Anywhere is an excellent way to ensure that crucial information is effectively and accurately communicated to your customers when booking over the phone. ReadBack Scripts give employees the ability to read back a summary of the trip to ensure everything is correct.
In this blog we'll cover how to enable ReadBack Scripts, how to set up the specific scripts you wish to use, and how frequently they appear to your reservationists.
Enable ReadBack Scripts
Click the 'My Office' icon in the Navigation Bar
Select the 'Company Settings' tab.
Click the 'Company Preferences' button, then select the 'Reservations' button.
There will be two settings related to ReadBack Scripts: 'Produce ReadBack script on first save' and 'Produce ReadBack script on all saves".

Select 'Yes' from the dropdown on the option most appropriate for your company.

Click the 'Update My Company Preferences' button at the bottom of the screen to save changes.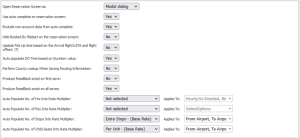 Creating ReadBack Script Templates
ReadBack Scripts are dynamic and can populate with unique reservation data by using the available Trip Tags in the system.
Click the 'My Office' icon in the Navigation Bar
Select the 'Company Settings' tab.
Click the 'ReadBack Script Templates' button
Enter a name in the 'Template Name' field
Select the Service Type associated with this ReadBack Script template. You can Select All or choose specific service types (ex. you might have a different ReadBack Script for Airport Arrivals explaining grace periods, meet and greet instructions, fees, etc.)
Enter the text for your ReadBack Script and insert the relevant Trip Tags for dynamic content.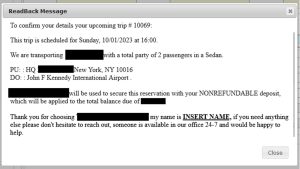 Use Cases for ReadBack Scripts
Remind your customer service representatives to collect flight information on Airport Arrivals/Pick-Ups.
Communicate the specific vehicles associated with a Service Type (ex. Please make sure to only assign 40-pax, 44-pax, or 55-pax shuttle/bus on Charter trips).
To serve as a general checklist for your reservationists on certain trip types (ex. remember to collect the PO numbers from bookers who call in for Medical Transportation).