Tracking New Bookers in Limo Anywhere
Posted By:

Stephanie Carnes

Tags: Sales
When it comes to running a successful business, managing bookings and reservations is only half the battle. It's equally important to keep tabs on your clientele and attract new customers to ensure sustained growth. In this blog post, we'll explore how Limo Anywhere reporting can help you efficiently track new clients and help you to expand your customer base and boost profitability.
Accessing New Booker Reports
In contrast to other reports, you can find this data under the Accounts tab in Limo Anywhere.
In the Navigation Bar, click the Accounts icon.
Select the 'Export Customers' tab.
Select the parameters for the data you would like to Export. Note: make sure to check the 'Date Created' box to determine what accounts in your system are new.
Select the date range of reservations you are looking to check for new accounts (daily, weekly, monthly, etc.)
Once you have selected the appropriate parameters, click the 'Generate Export File' button.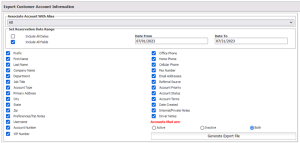 Download exported data from the next window.

Manipulate the data in the spreadsheet to only include the relevant information.
Sort the "Date Created" column by Newest to Oldest to see the accounts that were created most recently at the top.
Remove any rows that are not relevant to the dates you are looking to review. In the screenshot below, we have removed accounts not created within the past month.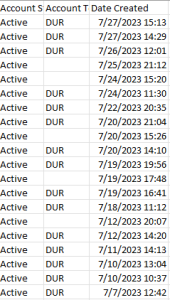 Once you have the spreadsheet, you can use this information to see new companies and retail clients that have been booking trips and plan your follow up for repeat business.
Note: this report will not indicate if trips have been cancelled: just that trips have been booked during the selected duration. We recommend looking up account numbers in your system to confirm a reservation has been completed successfully prior to reaching out.