Latest System Updates from Limo Anywhere: Enhancing Reporting & Analytics, Improving Security, and More
We are excited to announce a host of new enhancements to the Limo Anywhere platform, focusing on refined Reporting & Analytics capabilities, strengthened security measures, and additional features to improve your experience. With an eye on efficiency, clarity, and reliability, these updates reflect our commitment to evolving with your needs and delivering solutions tailored to the demands of modern transportation services. Dive into the details below to see how these changes can propel your operations forward.
Reporting & Analytics Changes:
Improvements:
🔧 New Dashboard for Trip Statistics: We've added a new dashboard that allows operators to have a quick view of trip statistics by location and per passenger.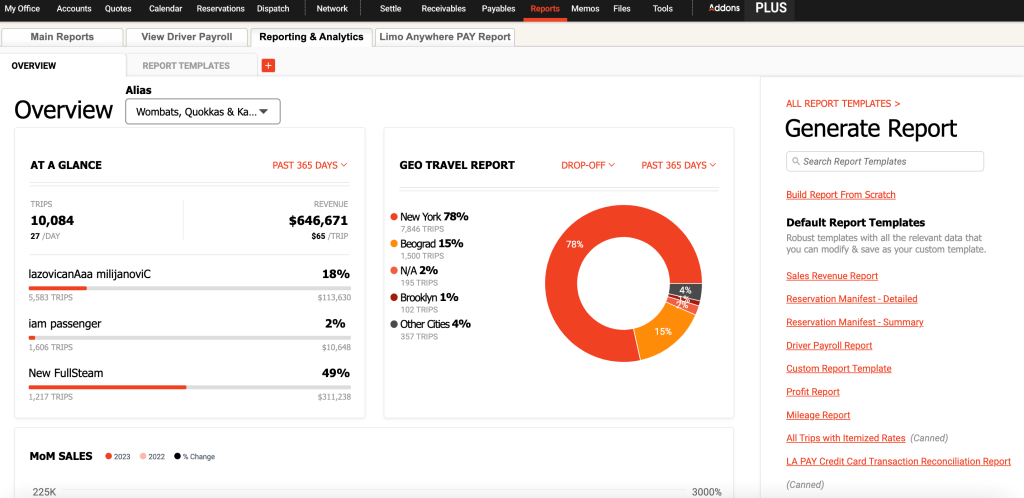 🔧 MoM and YoY Revenue Charts: Explore the month-over-month and year-over-year changes in revenue with our new charts, displaying current and 2 previous years' data.
🔧 New Look for Generating Reports: A refreshed appearance in Reporting & Analytics offers a better overview of custom reports saved by operators.
🔧 Two New Reports for LA PAY Users: Introducing the LA PAY Credit Card Transaction Reconciliation Report and LA PAY Credit Card Transaction Summary for enhanced financial tracking.
🔧 Optional R&A Dashboard Setting: If you prefer not to see the new R&A dashboard, a setting is available in My Office/Company Preferences/Forms, Reports/Show Dashboard Reports to turn off.
PCI-Related Changes:
Enhancements in Security:
🔧 Password Length Requirement: The minimum password length is now 12 characters across LA Web, ORES, PWA, enhancing security.
🔧 Login Attempts Limit: Now, users have 10 attempts to enter a password before being locked out of LA Web, an update from the previous 5 times.
Additional Updates:
🔧 Genesis Car Make Added: We've expanded our vehicle options by including Genesis car make.
🔧 Changed Email Sending Address: Changed the FROM email address of system notifications sent from your system to your staff to improve deliverability. These notifications will now come from 'notify@mylimobiz.com' instead of your company email address. No changes were made to any communications that are sent to your customers.
Note: some email services might alert you of the email coming from a different domain. This is expected and there is no cause for concern if you get this notification from your email provider.
We hope these updates enhance your experience with our platform and contribute to improved operations and security. As always, your feedback is invaluable as we continue to innovate and refine our services to meet your needs. Feel free to reach out with any questions or suggestions. Thank you for choosing Limo Anywhere!